Tuesday races and a few other miscellaneous races near Albuquerque, NM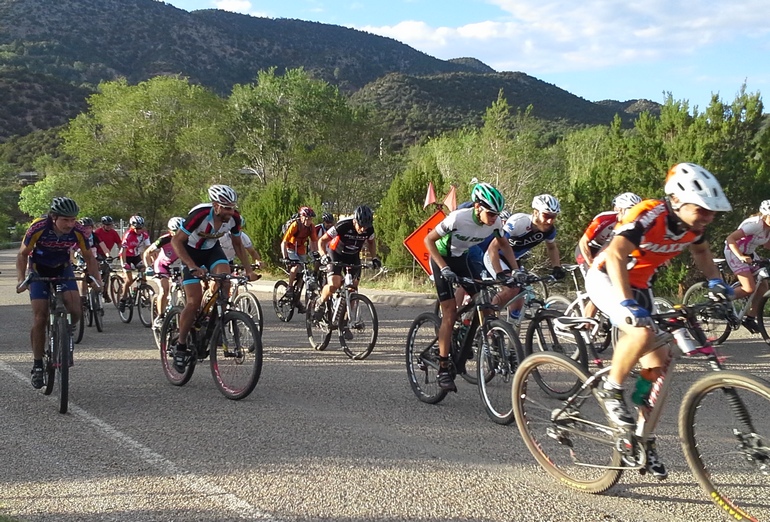 Upcoming Weekend Races and Results


I think we can do a limited Tuesday race series doing only ITTs.



This is the tentative COVID specific plan:



A. Do not gather in groups of more than 5 at any point.
B. Start times will be posted the morning before, just ride up and start. You do not need to chek in. If you sigm up and can't make it, email, PM, or text me.
C. Riders must start one foot down.
D. Signup online if at all possible. If you have to sign up a the race, wear a mask. Wear masks if you need to interact with other participants (borrow someones pump or the like.) We don't ask that you wear mask to race or warm up, but you can if you like. Try to print and pre-sign releases if you have not done one since 8/8/2019.
F. No awards ceremony, partial results will be posted on FB ASAP after the race, full results later that night. We might do some small prizes like chocolate which I will hand out afterwards.
G. If you pass your minute man/woman give then 6 feet of space. Obviously you can't draft, it is an ITT.
H. For now, all events will have a 30 rider field limit.



7/7/20 6:15 PM Cedro Peak Gravel ITT






7/14/20 6:00 PM Baloon Fiesta Park Criterium Course ITT


We will do a fairly twisty 1.9 mi criterium course and time riders for about 6 laps and then for a single lap.
Entry fee $13, payable online. 28yrs and under $7. 18 and under free. TT will be "Merckx" that is to say no aero bars and no using your tops as armrests. There will be a one time $5 administrative fee for riders who have not done a BCDracing event after 10/8/19. Try to print and pre-sign releases if you have not done one since 8/8/2019.

Balloon Fiesta Park Directions:
Get off I-25 at the Alameda exit. Go west on Alameda to San Mateo, turn right and head north to Balloon Fiesta Parkway, turn west, go to then end and park. Ride through the gate and across to the west side of the park


Since this is the first one of these, there will be a 12 non-junior rider minimum. To let me know there will be enough riders please sign up by midnight Sunday 7/12, but do not pay. If we have enough every can pay Monday or Tuesday using the like below.



Online Signup



Online Payments Choose the "Tuesday race with entry fees" option.



List of Registered Riders



Just FYI they are doing COVID testing at BFP. However it is 300m away from the closest part of the course, and it closes at 3PM, three hourse before the race. Here is a map. I think the chances of residual contaminated particles still being airborne in the area are very slim, but everyone has to make their own call on this, and I want to be upfront about the situation.






7/21/20 6:00 Roosevelt MTB circuit ITT

(tentative)
Something like our normal Roosevelt Course. We will do several laps to make a length of about 30-40 mins. You can get around the course on a CX/gravel bike but a MTB is preferred. Course will be marked and we will do a spread out group preride at 6:10PM.
No entry fee with a $13 non-required suggested donation, payable online.

Directions:
Take I-40 east from Albuquerque to the Tijeras exit, the road will "Y" right off the exit. Go right. (Left takes you to Sandia Peak) The road will curve to the right and come to a stoplight. Go straight about 1/4mi and go right at the fire station on Public School Rd.

Online registration will be here when available, just fill in your name and info on the spreadsheet. Try to print and pre-sign releases if you have not done one since 8/8/2019.



7/28/20 6:00 PM Baloon Fiesta Park Criterium Course ITT


Info same as above.




Want to try a couple of cool new gravel rides that you probably haven't done before?



I have been taking some time to explore new gravel routes. I have come up with a couple for starters. These will probably be race routes at sometime in the future. GPS files below.

Have fun. :)



Tome loop:
About 11 miles, mostly flat with a few hills. The biggest climb is mostly paved, but that can't be helped. It is a really a beautiful little loop. There is even a little artificial waterfall. If we do it as a race, I was thinking of about 4 laps. I would park either at the Family Dollar or at the Immaculate Conception Catholic Church by the Tome Plaza. I think it should go counterclockwise.
tomeloop.gpx or https://ridewithgps.com/routes/32498139



Velodrome Loop:


A 4.5 mile loop near Rio Bravo (Dennis Chavez) and Coors. I call it the Velodrome Loop because at the north end there is a curved AMAFCA drain that is shaped like half a velodrome. Be really careful the first time you ride it as if you are too high on the banking at the NE end it drops off a 3 foot wall. It is pretty obvious, but would be a scary crash if you were not paying atterntion. I was thinking of doing the start/finish with an out and back on the spillway or Hubbel Dam. You have to get off your bike about 4 times per lap to cross gates. After you exit the first long concrete section (which is a two way section) you have to cross a little rock and sand blockade. It has several little short hills. This would probably be a midweek race. There are a few goatheads, so make sure your sealant is fresh. Clockwise loop. I would park on the north side of the parking lot for the Presbyterian Clinic on Las Estancias, and then you can use the light to get across Coors. Then you can push your bike up the levee and access the spillway from there.
velodromegravel.gpx