BCD Racing Home
NM Old Fashioned CX Series

01/07/23 Hays Apple Farm CX I, Bosque Farms, NM,
01/15/23 Hays Apple Farm CX II, Bosque Farms, NM,

01/22/23 Hays Apple Farm CX III, Bosque Farms, NM,
01/28/23 Waterfall Informal CX, Corrales, NM

0212/23 Sat

Lone Cottonwood

Gravel Circuit

Albuquerque, NM

02/25/23 Sat Riverside Park MTB Race, Los Lunas, NM tent
03/14/23 Tuesday MTB's start and continue on alternate Tuesdays until mid May.

03/25-26/23 Bosque MTB Stage Race, Albuquerque, NM

04/16/23 Sun Gnarwhale MTB Race, Albuquerque, NM tent
06/18/23 Sun Sandia Alpine Circuit, Albuququerque, NM, MTB race
Tuesday Results 2022
Tuesday Results 2021
Tuesday Results 2020
Weekend event results 2022, 2021, and earlier, work in progress

Ahh the Bosque, with the sun reflecting off the fallen cottonwood leaves.







Bosque MTB Race, March 25 and 26, 2023, Albuqueque, NM

Bosque is a Spanish term for "wood," in the sense of a forest, which, in Albuquerque, means all the cottonwood forests near the river. Mountain bikers have been riding the bosque as long as there have been mountain bikes, and it is kind of a unique terrain for this part of the world, with the twisty trails through the forest. I tried to pick the twistiest and most technical trails I could find, to make a course that favors MTBs over CX/gravel bikes as much as possible. (You can ride your CX/gravel bike if you want.) Probably the ideal machine is a rigid fork hardtail MTB with about 2.1 tires, but there are sections where the suspension feels nice. Preride the area if you can.

2/25/2023

Rio Bravo Circuit 15-25mi

eastside bosque north of Rio Bravo, pretty much flat with some very tight sections and some fast sweeping corner sections. This are some of the classic Bosque trails.If you live in Albuquerque, you have probably ridden some of it before.



3/26/2023

Hubble Circuit, 10-18 miles

near Rio Bravo and Coors, course location tentative. Fun twisty trails through the cottonwoods with some steep up and down bits on and off the levee. Make sure you have fresh sealnt as there are some goatheads.


For the NMORS race Saturday 3/25:
We will score all NMORS categories (for series points) and some junior categories to accommodate school age racers. Note if you are in a school age program, Advanced=Cat1, Intermediate=Cat2, Beginner=Cat3. We will combine categories into three start waves for Saturday, two for Sunday. This may change depending on the number of riders we get signed up.



We will score the following combined groups for stage race general classification:



A men: Men Pro, Cat 1 men & boys 17-18, Cat 2 19-39.


B Men:

Cat 2 men 40+ and boys 15-15 and 17-18.


Women:

Pro, Cat 1 14+, Cat 2 16+.



For the Sunday Race 3/26:


Sundays Race will be divided into the GC groupls and only scored overall for those GC droups.


Stage race scoring will be by points for an omnium general classification.
To be eligible for the GC you must at least start both stages. On each stage you will get 1 point for starting, 2 points for finishing and 17, 14, 12, 10, 9, 8, 7, 6, 5, 4, 3, 2 points for the top 12 places overall in the three above groups.

Note that all riders will finish on the same lap like in a crit or a cyclocross.



Prizes:


We will have some gift certificates and small prizes for the omnium overall. I am kind of opting for lower entry fees and no prize money. We are not doing prizes for riders who just do Saturday, but they will get NMORS series points.



Online Registration:


We will use Google Forms for registration. It does not cost anything to preregister. You can pay online or at the race via cash, check or card. I am not going to charge late fees but please try to sign up by 11:59PM on Thursday 3/23. I need to figure out how big of a crew I need.



Online Registration coming





List of Registered Riders coming





Online Donations

Note that you click "DONATE" to pay. Square glitch.



Entry Fees:


Stage Race $75, under 23 $40, under 19 $20.
Sat (NMORS) only $40, under 23 $20, under 19 $10.
Sun only $35, under 23 $18, under 19 $10.



Weather:


We will run these rain or shine, but promoter reserves the right to cancel or move the course in the event of severe inclement weather or other issues.



Contact:

Hawke Morgan at 505.259.6885 call or text. Email: hawke@bcdracing.com



General Info:


Not USAC sacntioned, and USAC licenses, annual or one day, are not required. Helmets are required. Aside from unrestricted feeding of riders, and allowing spare wheels and technical support at the start finish, this race will be run under USAC MTB race rules.



Stage 1 (and NMORS race) Rio Bravo Bosque Circuit about 4mi


Parking on the west side of the River north and south of Rio Bravo Blvd, best accessed via Poco Loco St, just east of the river. Main parking area is called the Rio Bravo Riverside Picnic Area. Google Maps Placemark. 2022 GPS Track. Course will be CCW. We will start on the levee road so that we do not have all the riders going into the singletrack in an uncivilized manner. MTB starts should be civilized. Crouse may be a little longer than this.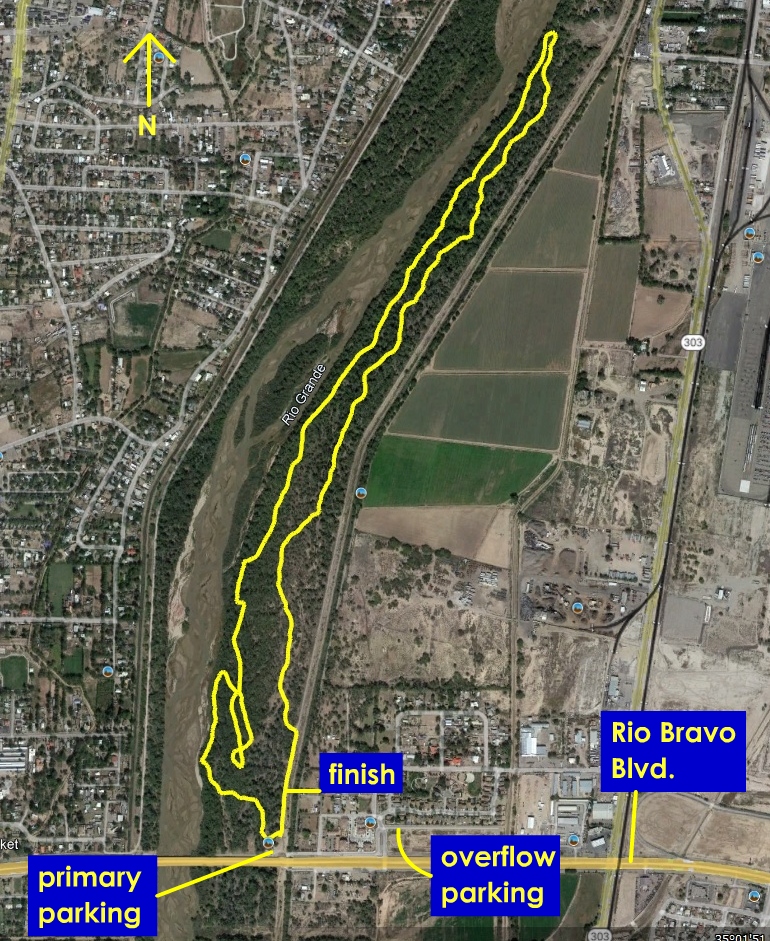 Stage 2 Hubble Dam Area:
Shorter circuit with a several short punchy steep hills going up and down off the levee, and some twisty singletrack through the cottonwood forest. Be sure and have fresh sealant as there are a few goatheads. A fun little course that we will be using for the Tuesday MTB races. A little sand but no rocks to speak of. Course shown on map is not cleaned out as of 12/31/22. I will get a GPS track up when I have it cleaned.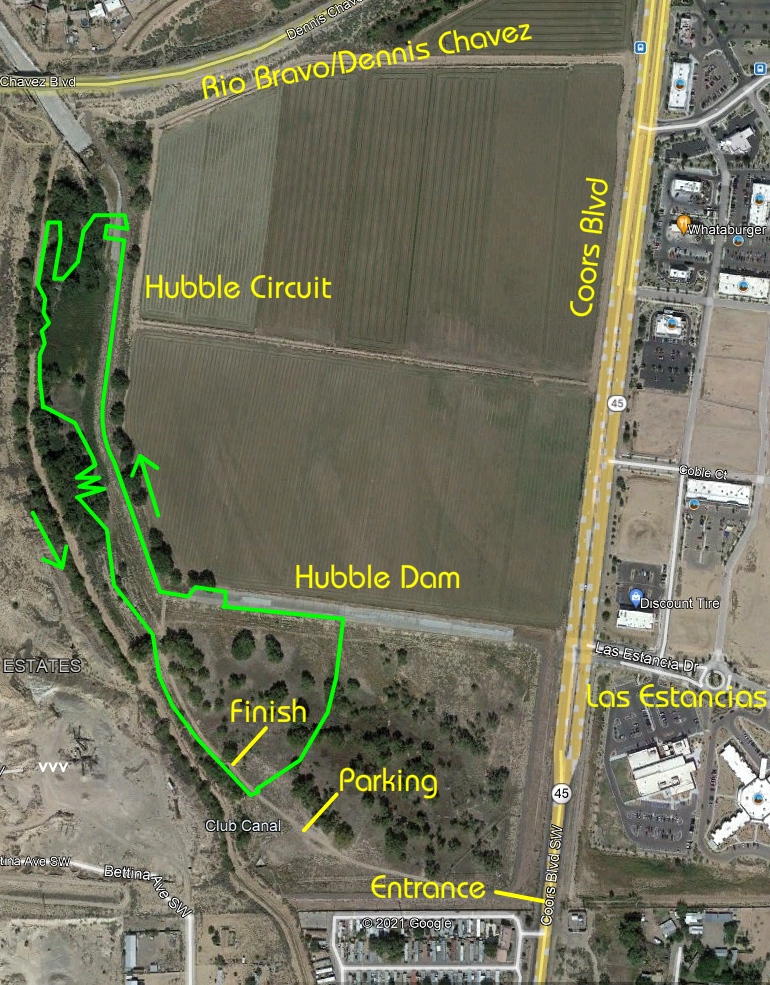 BCD Racing Course Marking Conventions




Red and green pinflags

will always be

red-right

and

green-left

. These will mark either side of the course. Always go between them with red on the right. If you start seeing green-right you are probably riding the course backwards. I will occasionally place red and green pinflags on either side of the course if it has been a while since there has been any trail marking. These may not be near any intersection. This is just to let you know that you are still on course.



Orange pinflags

show where not to go, and are usually in lines of 3 or more. They will be used to block off a trail that is not on course. Do not go in between orange pinflags. Sometimes lines of course tape also show where not to go. Lines of tape and orange pinflags mean the same thing: Do not cross.



Intersections

will be marked with triangular yellow arrows. Also, just beyond the intersection, I will put up at least two sets of red and green disinflation either side of the course. Sometimes there will also be orange pinflags blocking entrances to roads/trails not on course.



Always

default to the more trafficked trail or road. If you are on a major trail or road, stay on it, and do not get off on any smaller intersecting trails/roads. It is not always possible to mark every possible little trail intersecting a main trail or road. If the course DOES get off a more trafficked road/trail onto a less trafficked road/trail, there will always be some marking indicating this.