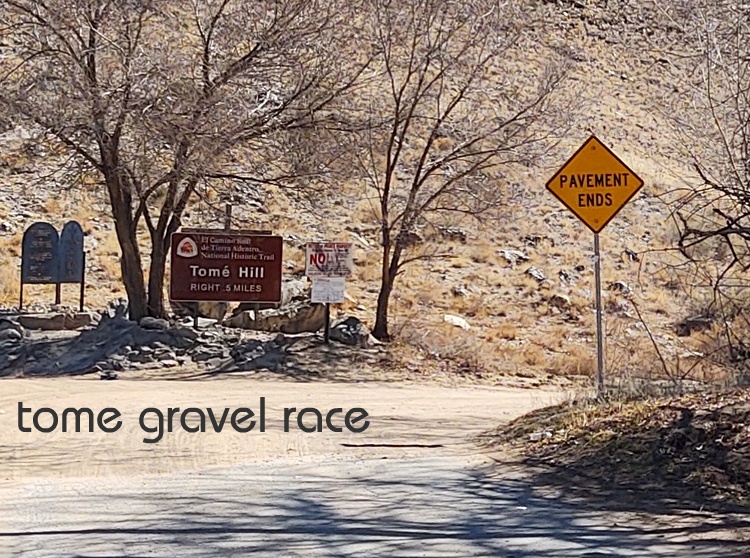 BCD Racing Home
12/12/21 Glorieta CX, Glorieta, NM (NMCX series race) (we will use Sunnyslope if Glorieta is too snowy)
01/02/22 Hubble CX and Cross Country Run, Albuquerque, NM tent (not part of the NMCX series)
01/08-9/22 Hays Apple Farm CX and Cross Country Run on 1/9/22, Bosque Farms, NM (NMCX series race)
03/15/22 Tuesday Races start back up alternating road criteriums at BFP and STMTB :)
03/25-27/22 Bosque MTB Stage Race, Albuquerque, NM, MTB XC Race (tent)
05/8/22 Tome Gravel Grinder, Tome, NM, mostly mellow pretty ditchroads with a one little climb, tent

We may do a couple of MTB XC races in the Sandias in the summer.





Tuesday Results 2021
Tuesday Results 2020
Weekend Event Results 2021 work in progress
All other Results work in progress


Here is the GPX file.

I just traced it manually on Google Earth, so it is not perfect, but should be pretty close.

(Right click to save)








Sunday 5/8/22




All riders will start at 9AM in waves to comply with COVID rules.





Course:




About 45mi, 3 15mi laps. (You can also do just 2 laps if you want.) First lap will be socially paced, so that everyone previews the course. It is kind of complex and I think this is the best way to see to it that hopefully no one makes any wrong turns. Course will be marked too. Mostly flat with one climb to the finish.

It is a really a beautiful little loop, probably one of the most scenic gravel courses anywhere. Miles of treelined ditchroads. About 1/4 of the course will be tarmac. Road surface is pretty firm and smooth. I will get a report up pre-race as to what the course is like and how wide of tires are recommended.





Entry fee:


No entry fee as it is an informal non-permitted event, but there will be a suggested donation of: adults $20. U23 $10, Juniors $0, or whatever you can afford.



Prizes:

TBA if any.



General Info:


Race is insured but not USAC. USAC licenses, annual or one day, are not required. Helmets are required.



Weather:


We will run these rain or shine, but promoter reserves the right to cancel or move the course in the event of severe inclement weather or other issues.



Contact:

Hawke Morgan at 505.259.6885 call or text. Email: hawke@bcdracing.com







Online Registration:


We will use Google Forms for registration. It does not cost anything to preregister. Full registration info coming.


Race wil not be USAC sanctioned.

There will ba a 15 rider minimum which must be reached by 8AM Saturday 5/6/22, or we may cancel. Check here or on the Hawke Races FB page to make sure we are on.



Online Registration





List of Registered Riders





Online Donations





Directions:


It is a cool course, but there is no easy way to get to the start. Here is a Google Maps Placemark if you want to let your smartphone guide you.
Otherwise, Exit I-25 at Broadway/Isleta Casino and take NM47 south about 7mi where you will make a left in Los Lunas by the Smiths, but the road will stay NM47. After about another 3 miles NM47 narrows down to 2 lanes. About 1.5 mi later, there will be a Family Dollar on the right. Take the first paved left after the Family Dollar. This will be Tome Hill Rd. Last time I checked there is no street sign, but there is a sign that says "Wine Tasting" (There will be a lot of course markings around here; ignore them.) This will take you to the very base of Tome Hill where the road will bend right and become dirt, then become paved again, keep going straight up the hill to the stop sign. 1.25 mi after this stopsign will be a wide dirt road to the right. Take this south for about a mile, past two major intersections then go right on the third. Park leaving a wide lane for the racers. This will be just after the start/finish.



Course is counterclockwise and goes 2-way on Tome Hill Rd for a bit.